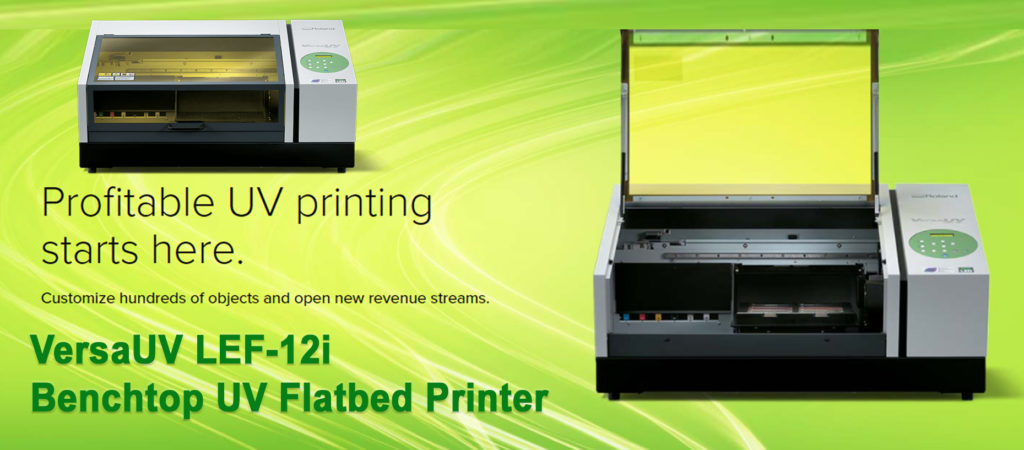 VersaUV LEF-12i Specification
Model 
VersaUV LEF-12i
Printing method
Piezo ink-jet method
Acceptable media
Width
Maximum 12.2 inches (310mm)
Length
Maximum 13.2 inches (335mm)
Thickness
Maximum 3.94 inches (100mm)
Weight
Maximum 11 lbs (5Kg)
Printing Width
Maximum 12 inches (305mm)
Printing Length
 Maximum 11 inches (280mm)
Ink cartridges
Type
ECO-UV 220ml cartridge
Colors
Six colors CMYK, White, Gloss
Ink-Curing Unit
Built-in UV-LED lamp
Print Resolution (dpi)
Maximum 1440 dpi
Distance accuracy (when printing) *1
Error of less than ±0.3% distance ±0.3mm, whichever is greater
Connectivity
Ethernet (10Base-T/100Base-TX, automatic switching)
Power-saving function
Automatic sleep feature 
Power requirements
AC 100 to 240V ±10%, 1.8A (50/60Hz) 
Power Consumption
 During operation
Approximately 149W 
 During standby
Approximately 13W 
Acoustic noise level
 During operation
 60 dB (A) or less
 During standby
 49 dB (A) or less
Dimensions
 Width
39.3 inches (998 mm) 
 Depth
34.2 inches (867 mm)  
 Height
 21.5 inches (546mm) 
Weight
 187.4 lb (85kg)
Environment
 During Operation *2
Temperature:20 to 32°C or 68 to 90°F
(22° or 72°F or higher is recommended)
Humidity: 20 to 80% RH (no condensation) 
 Not operating
Temperature: 5 to 40°C or 41 to 104°F
Humidity: 20 to 80% RH (no condensation) 
*2 Operating environment
Roland VersaWorks 6 System Requirements
Operating system
Windows® 10 (32/64-bit)
Windows® 8.1 (32/64-bit)
Windows® 7 Professional / Ultimate (32/64-bit)
CPU
Intel® Core™2 Duo, 2.0 GHz or faster recommended
RAM
2 GB or more recommended
Video card and monitor
A resolution of 1,280 x 1,024 or more recommended
Free hard-disk space
40 GB or more recommended
Hard-disk file system
NTFS format
Optical drive
DVD-ROM drive
Other requirements
Ethernet or USB port
Internet connection and web browser to use Roland@NET
Please note: Considering that you will be using software such as Illustrator, we recommend that you use as high performance computer as possible to reduce RIP processing time.
We also recommend using a hard disk that has large enough capacity, as print files are often tens of GB in size (or larger) when data is high resolution.
* Roland VersaWorks 6 is a 32-bit application, which runs on 64-bit Windows® with WoW64 (Windows 32-bit on Windows 64-bit).