Description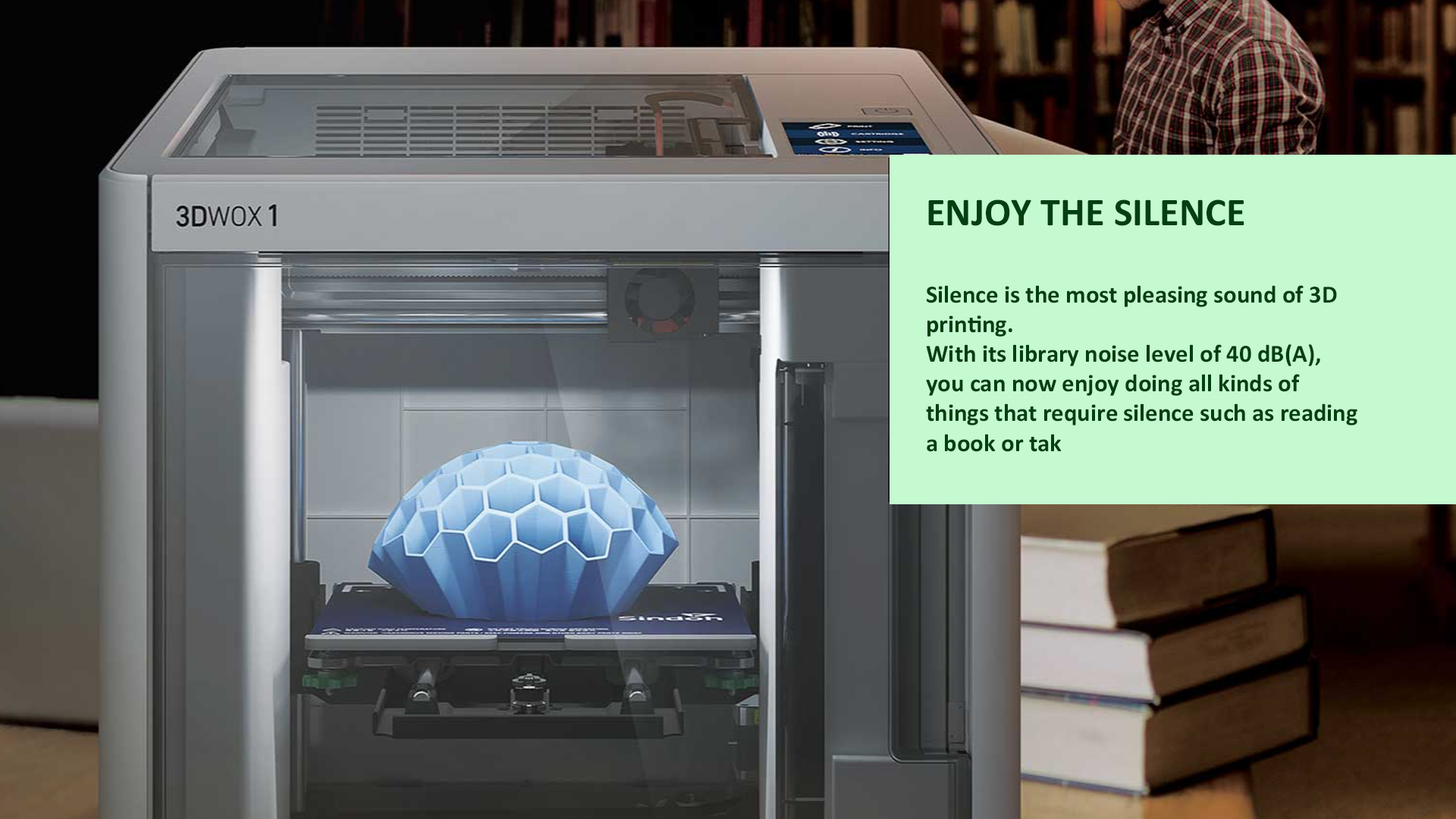 OPEN SOURCE FILAMENT
You may select the Open Material mode and discover further 3D printing possibilities or choose Sindoh filament to ensure the consistency in print quality.
FULLY AUTOMATED LOADING
At Sindoh, we believe 3D printing should be easy. On many 3D printers today, the process of changing filament is a difficult procedure which involves cutting, retrieving, and placing into small openings, all manually performed by the user.
This makes the 3D printing a difficult experience, so with 3DWOX 1, we keep it simple.
Just insert the cartridge and you're done.
REMOTE MONITORING
3D printing of intricate and large objects can be time consuming.
At Sindoh, we believe in making the 3D printing experience easy so we have integrated a camera and LED lighting into 3DWOX 1 for remote monitoring of the printing process day or night.
Simply install the 3DWOX mobile app on your phone or tablet to watch the print progress from the convenience of your living room.
ASSISTED BED LEVELING
One of the keys to printing perfect prints every time is ensuring the print bed is perfectly leveled.
You wouldn't want your house built on a slanted surface and the same is true for 3D printing.
Bed leveling is important but with 3DWOX 1, we make it simple.
The printer does the work and displays clear instructions to set the perfect level.
| | |
| --- | --- |
| Print Technology | FFF |
| Print head | Single Nozzle |
| Nozzle Diameter | 0.4mm |
| Max Build size  | (WxDxH)210 x 200 x 195 mm |
| Material | Sindoh Filament : PLA, ABS |
| Open Source Filament | PLA, ABS, ASA, PETG, etc |
| Connectivity | USB 2.0 Device / 2.0 Host, Ethernet (1G), Wi-Fi |
| Layer Thickness | 0.05 ~ 0.40 mm |
| Filament  | Diameter1.75mm |
| Size  | (W×D×H)421 × 433 × 439mm (16.5"x17"x17.2") |
| User Interface | 5-inch Full Color Touch Screen |
| Leveling | Auto Leveling Measurement + Manual Adjustment |
| Auto-loading Cartridge | Automatically loads filament to nozzle |
| LED Lamp | Internally Installed |
| Monitoring  | CameraCheck print status remotely via WiFi  |
| Slicer | 3DWOX Slicer Sindoh Cloud Slicer Simplify3D Ver.4.1 |
| Software Compatibility | Solidworks Add-in 2016 or above  |
| Software | Solidworks Apps for Kids AutoDesk TinkerCAD |
| Software | Myminifactory.com Click & Print |
| Operating System | Window 7 or above Mac OSX 10.10 above |
| Note | Standard VGA driver on operating system, or a graphics card doesn't support OpenGL 2.0, may cause unknown error in 3DWOX Desktop. |