This 3DWOX 1 is an amazing plug-n-play 3D printer for its price. Its simple interface and simple setup make it ideal for any user interested in a 3D  printer. Now with an open material source, fully automated loading, and remote monitoring from the 3DWOX meets all your demands without breaking the bank. The Sindoh 3DWOX 1 is suitable for serious customers, schools and offices.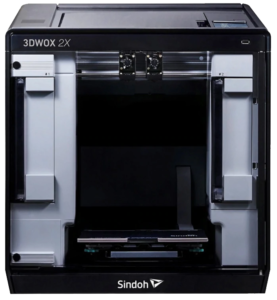 The Sindoh 2X is a professional 3D printer manufactured by South Korean company Sindoh. Highly reliable and it ensures your experience with the product simplest, smoothest, and enjoyable.
It has a multi-material 3D printing feature called IDEX (independent dual extruder). Another feature includes professional desktop 3D printer's two auto-loading cartridges. Furthermore, it also adjusts the temperature settings according to the loaded material.
Eliminate Outsourcing and Expand In-House Capabilities
with the SOL LCD 3D Printer Bundle Distributed by Roland DGA
The SOL LCD 3D Printer offers an open material system, 100+ pre-calibrated materials and compatibility with a wide variety of tools and resins. With no user calibration necessary and selective curing technology, you can quickly and easily produce same-day dental applications that have a long lifespan and eliminate the need for outsourcing.
Explore the SOL LCD 3D Printer's
Capabilities and Specifications
Ready, Set, Print
All-Inclusive SOL LCD 3D Printer