IU-1000F UV-LED Flatbed Printer
Speed, Simplicity and On-Demand Flexibility
Available in a choice of different print widths and bed set-ups, LEC2 S-Series printers are unique devices that provide the best of both worlds with direct-to-product customization plus direct printing on flexible and rigid materials that are instantly ready for finishing and installation.
It's the perfect on-demand printing solution for starting in customization or supporting your current print operation— offering quick-turnaround on traditional print jobs and easy production on a huge portfolio of products and merchandise.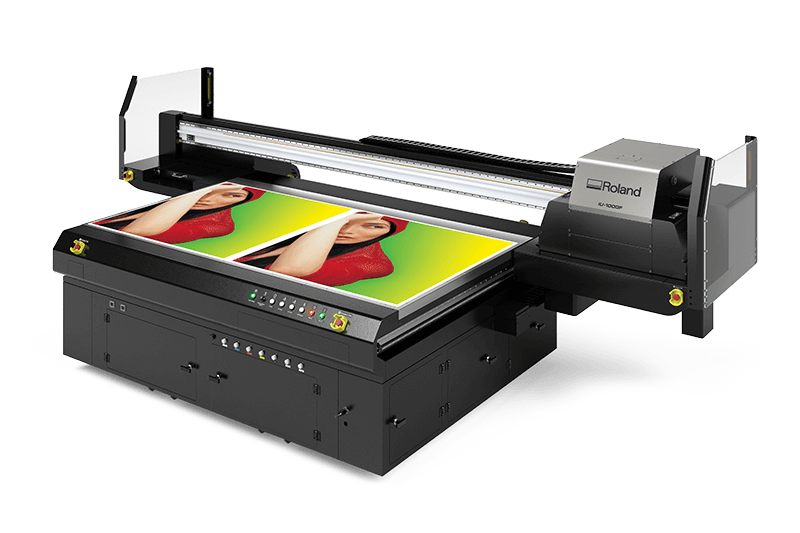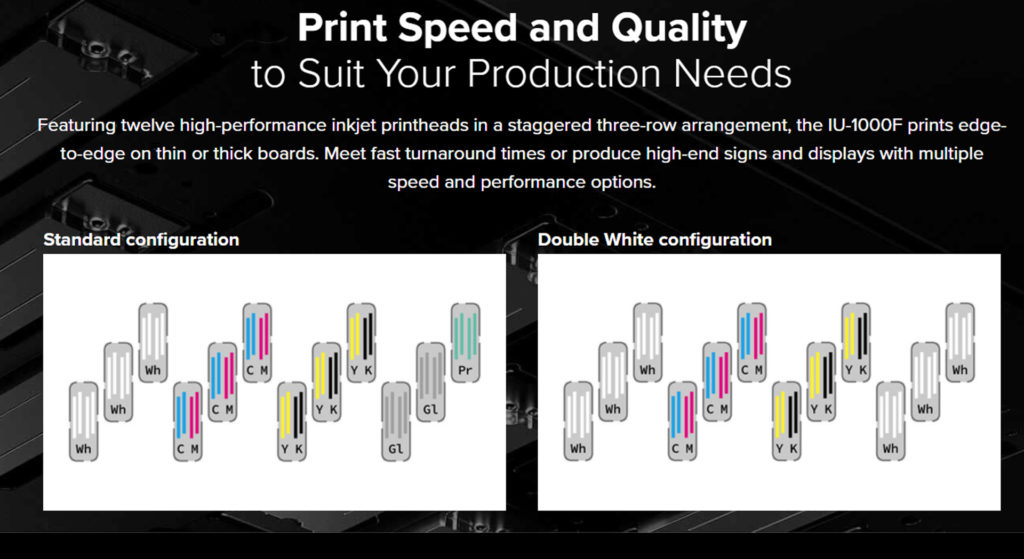 IU-1000F Specification

Printing method
Piezo ink-jet method
Media
Maximum size
98.8 × 51.5 in. (2,510 × 1,310 mm)
Maximum thickness
4.33 in. (110 mm)
Maximum weight
99 lbs/m2 (45 kg/m2)
Maximum printing area
98.4 (width) × 51.1 (length) in. (2,500 × 1,300 mm)
Ink
Type
UV Curable Ink (UE, US)
Color
Six colors (cyan, magenta, yellow, black, white, and gloss) and primer
Ink bottle capacity
CY, MG, YE, BK, GL, PR: 1,000 ml
WH: 900 ml (US-WH), 850 ml (UE-WH)
Ink tank capacity
2,500 ml per color
Ink curing unit
UV-LED lamp
Print resolution (dots per inch)
Max. 635 × 1,800 dpi
Media vacuum system
Up to four vacuuming areas with adjustable vacuum pressure
Connectivity
USB 3.0
Power requirements
EMEA 25A 3-phase 400 V
NA/JPN 30A 3-phase 220 V
Dimensions
189.4 (W) × 86.6 (D) × 62.2 (H) in. (4,812 × 2,200 × 1,580 mm)
Weight
3,166 lb (1,436 kg)
Environment
Temperature
59 to 86 °F (15 to 30 °C)
Humidity
40 to 80 %
Included items
USB cable, paper towel, cleaning kit, CD manuals, software installation CD, etc.
Acoustic noise level
75 dB (A) or less
This device is capable of printing on a wide variety of substrates. However, the print quality or the ink adhesion may vary according to the substrate used and it is strongly recommended to test the substrate for compatibility to ensure optimal print results.
Software System Requirements
Print control
(bundled)
OS
Windows® 7/10 (64 bit)
CPU
Intel® Core™ i5, 2 GHz or more
RAM
8 GB or more
Video card and monitor
A resolution of 1,152 × 854 with 16 bit color or higher
HDD
Install space 1 GB or more
Working space 100 GB