Description
From Your Mind to the Mill
Whether for product designers, engineers, and other professionals or for students and educators, the MDX-540 combines advanced capabilities with ease-of-use for the precision milling of a wide variety of plastics, woods, metals and more. Although the MDX-540 is a highly advanced 4-axis desktop CNC device, it offers a simplified operating system plus included SRP Player CAM software to make prototype production an easy and stress-free experience. Rotary & automatic tool changer (optional), Milling speeds can all be controlled by simple Virtual Control Panel or the user-friendly software.
Choose the MDX-540 Model That's Right For You
All MDX-540 models deliver superior performance with a combination of Digital AC Servo motors and Feed Forward Processing commonly used in larger, more expensive machines. In addition to the base-model MDX-540, you can choose from the following options:
MDX-540S
Produce even smoother curves and finer details with the addition of higher accuracy ball screw for enhanced precision and repeatable production capabilities.
MDX-540A
Includes an Automatic Tool Changer for uninterrupted milling.
MDX-540SA
Produce smoother curves and finer details with the addition of higher accuracy ball screw for enhanced precision and repeatable production capabilities, plus an Automatic Tool Changer for non-stop production.
MDX-540 Milling Machine Features
Don't Be Limited by Materials
As a subtractive instead of additive 3D machine, the MDX-540 Rapid Prototype Machine supports a variety of non-proprietary materials that include ABS, nylon, hardwood, plywood, FDA approved resins, non-ferrous metals and much more. The following items are just some of the prototypes and applications that are possible with this versatile device:
Snap-fit parts
Molds for casting
Toys and games
Product prototypes
Jewelry and accessories
Furnishings and decorations
Electrical parts and casings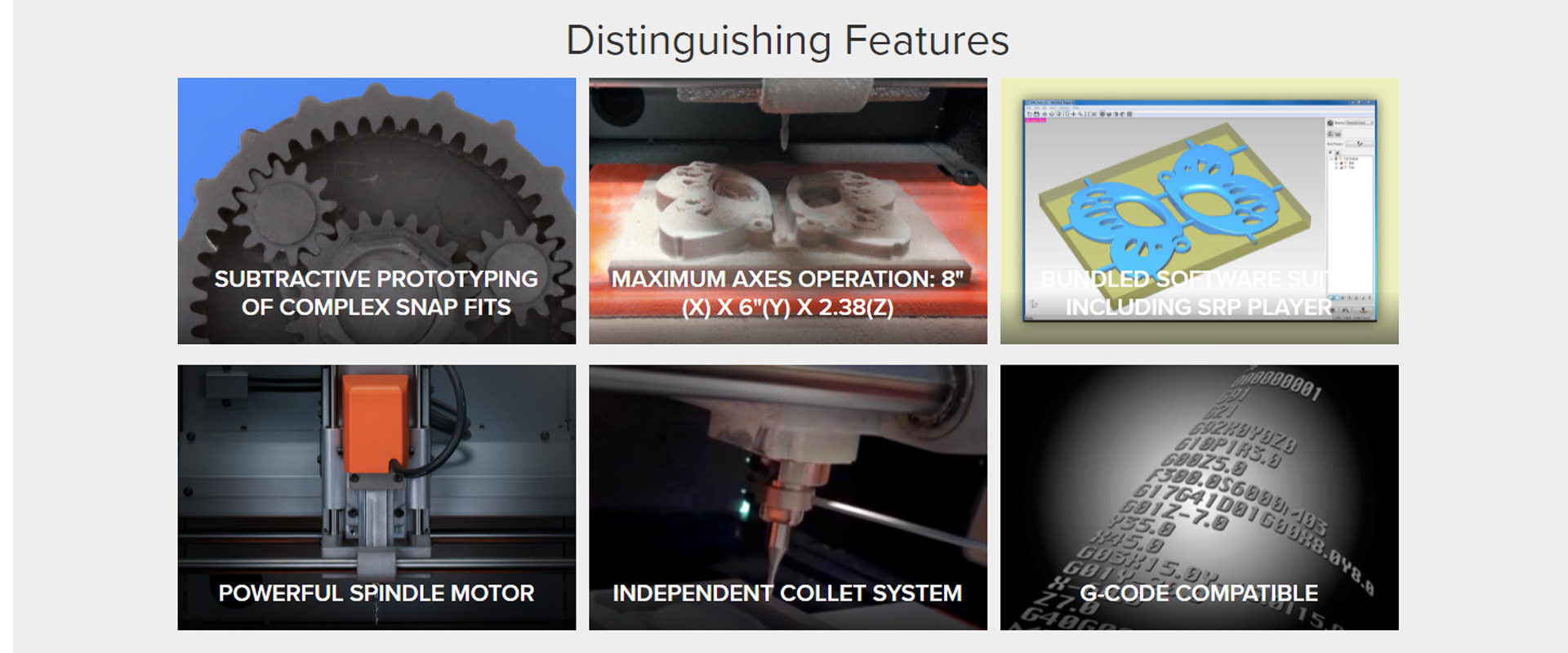 Make Prototypes with Fit and Function
The MDX-540 Rapid Prototype Machine can be used to produce functional prototypes and proof of concept testing for industrial and commercial release, such as thermal and structural trials. Used extensively by engineers, the MDX-540 is ideal for creating aluminum, brass and copper molds for rapid injection molding and EDM electrodes for production tooling. Plus, MDX-540 parts meet a host of FDA and other government regulations
SRP Player CAM Software
Designed for use by design professionals as well as students and novices SRP Player allows MDX users to simply open a 3D file, click through the step-by-step interface, then hit the "print" button to send designs to the MDX-540. SRP Player automates the prototyping process and generates tool paths with high speed and precision, also offering 3D scaling, support for 4-axis milling and simulation of finished 3D parts
Mill Fast and Smooth for Minimal Finishing
MDX-540 devices use high-speed, high-precision 400W spindles that decrease vibration within the unit and produce accurate prototypes for complex fits. With ISO15448 standard collets, the MDX-540 mills smooth surfaces that requires little to no post finishing work.
G-Code Support
The MDX-540 also supports G-code NC programming language, making it well suited for both professional and educational applications
Stay In-Control with a Hand-Held Controller and Virtual Control Panel
The Handy Panel hand-held controller can be extended from the MDX, allowing you to control the machine from a distance, while the Virtual Control Panel lets you control the MDX-540 directly from your PC. Both options simplify setup and operation by allowing you to change spindle speed and select other options from a convenient location
Included Software for Experts and Beginners
SRP Player CAM
From design to mill in three simple steps. Roland's MDX rapid prototyping machines come complete with SRP Player Software to prepare your CAD model for RP manufacturing with no programming skills required.
Design
Import
Mill
Your Machine, Your Configuration
The MDX-540 gives you the freedom to configure your system exactly the way you want with additional safety covers and a range of collets to work with industry standard tooling. Additions include a time and error-saving Rotary Axis to allow users to rotate an object until all four sides have been milled and an Automatic Tool Changer that changes up to four preset tools of different sizes with an air-activated, high-precision spindle
SPECIFICATIONS
MODEL
MDX-540
MDX-540S
Usable Materials
Plastic, resin, wood and non-ferrous metals
XYZ-Axis Travel
19.6(X) x 15.7(Y) x 6.1″(Z)[500 (X) x 400 (Y) x 155 mm (Z)]
Loadable workpiece size with optional rotary axis (ZCL-540) *
7.0" Diameter x 14.6" Length [177.8mm Diameter x 370.8mm Length] Actual milling area is smaller
Distance From Spindle Nose to Table
Maximum 10″ (254mm)
Table Size
21.7(W) x 16.5″(D) [550(W) x 420mm (D)]
Loadable workpiece weight
At acceleration of 0.2G: maximum 26lb (12kg), 0.1G: 44lb (20kg), 0.05G: 44lb (20kg)
XYZ-axis drive system
AC servo motor, 60W
AC servo motor, 80W
Operating speed
Maximum 295ipm (7.5m/min)
Acceleration
0.2G, 0.1G, 0.05G
Software resolution
RML-1 mode: 0.0004″(0.01mm ), NC-code mode: 0.00004″ (0.001mm)
Mechanical resolution
0.00004" (0.001mm)
Positioning accuracy
+/-0.004″/12″(+/-0.1mm/300mm), under no-load conditions
Repeat accuracy
+/-0.0019″(+/-0.05mm), under no-load conditions
+/-0.0008″(+/-0.02mm), under no-load conditions
Origin reproducibility (when the power is switched on/off)
+/-0.0019″ (+/-0.05mm)
+/-0.0008″ (+/-0.02m)
Spindle motor
DC brushless motor, maximum 400W
Spindle speed
400 to 12,000 rpm; 400 to 3,000 rpm for positioning and centering
Tool chuck
Collet method, maximum tool diameter: 0.4″ (10mm)
Control command sets
RML-1 and NC codes
Interface
USB (compliant with Universal Serial Bus Specification Revision 1.1)
Power supply
Voltage and frequency: AC 100 to 120 V/220 to 240 V +/-10%, 50/60 Hz
Required power capacity: 7A (100 to 120V)/4A (220 to 240V)
Power consumption
Approx. 700W
Acoustic noise level
During operation (no cutting): 65dB (A) or less, during standby: 40dB (A) or less (according to ISO 7779)
Dimensions
Width x depth x height: 29.3 x 37.6 x 33.8Z" (745 x 955 x 858mm)
Width x depth x height: 30.1 x 37.6 x 33.8Z" (765 x 955 x 858mm)
Weight
225lb (102kg)
Operating temperature
41 to 104F (5 to 40C)
Operating humidity
35 to 80% (no condensation)
Included items
Handy panel, power cord, tool sensor, sensor cable, nut, nut wrench, wrench, hexagonal wrenches, Roland Software CD-ROM, SRP Player CD-ROM, User's Manual, Roland Software Guide, SRP Player Installation and Setup Guide, and NC Code Reference Manual
MODEL
MDX-540A
MDX-540SA
Usable Materials
Plastic, resin, wood and non-ferrous metals
XYZ-Axis Travel
15.7(X) x 15.7(Y) x 6.1″(Z)[400 (X) x 400 (Y) x 155 mm (Z)]
Loadable workpiece size with optional rotary axis (ZCL-540) *
7.0" Diameter x 14.6" Length [177.8mm Diameter x 370.8mm Length] Actual milling area is smaller
Distance From Spindle Nose to Table
Maximum 10″ (254mm)
Table Size
21.7(W) x 16.5″(D) [550(W) x 420mm (D)]
Loadable workpiece weight
At acceleration of 0.2G: maximum 26lb (12kg), 0.1G: 44lb (20kg), 0.05G: 44lb (20kg)
XYZ-axis drive system
AC servo motor, 60W
AC servo motor, 80W
Operating speed
Maximum 295ipm (7.5m/min)
Acceleration
0.2G, 0.1G, 0.05G
Software resolution
RML-1 mode: 0.0004″(0.01mm ), NC-code mode: 0.00004″ (0.001mm)
Mechanical resolution
0.00004" (0.001mm)
Positioning accuracy
+/-0.004″/12″(+/-0.1mm/300mm), under no-load conditions
Repeat accuracy
+/-0.0019″(+/-0.05mm), under no-load conditions
+/-0.0008″(+/-0.02mm), under no-load conditions
Origin reproducibility (when the power is switched on/off)
+/-0.0019″ (+/-0.05mm)
+/-0.0008″ (+/-0.02m)
Spindle motor
DC brushless motor, maximum 400W
Spindle speed
400 to 12,000 rpm; 400 to 3,000 rpm for positioning and centering
Tool chuck
Tool holder format, Taper shank: JBS4002 15T
Control command sets
RML-1 and NC codes
Interface
USB (compliant with Universal Serial Bus Specification Revision 1.1)
Power supply
Voltage and frequency: AC 100 to 120 V/220 to 240 V +/-10%, 50/60 Hz
Required power capacity: 7A (100 to 120V)/4A (220 to 240V)
Power consumption
Approx. 700W
Acoustic noise level
During operation (no cutting): 65dB (A) or less, during standby: 40dB (A) or less (according to ISO 7779)
Dimensions
Width x depth x height: 29.3 x 37.6 x 33.8″ (745 x 955 x 858mm)
Width x depth x height: 30.1 x 37.6 x 33.8″ (765 x 955 x 858mm)
Weight
249lb (109kg)
Operating temperature
41 to 104F (5 to 40C)
Operating humidity
35 to 80% (no condensation)
Included items
Handy panel, power cord, tool sensor, sensor cable, nut, nut wrench, wrench, hexagonal wrenches, Roland Software CD-ROM, SRP Player CD-ROM, User's Manual, Roland Software Guide, SRP Player Installation and Setup Guide, NC Code Reference Manual, and Automatic Tool Changer (Refer to the ZAT-540 specs below.)
|   | Automatic Tool Changer (ZAT-540) |
| --- | --- |
| Number of tools housed | 4 |
| Maximum tool length | 4.3" (110mm) |
| Maximum tool diameter | 0.4" (10mm) |
| Maximum tool weight | 0.77lb (350g) |
| Tool-holder format | Taper shank: JBS4002 15T |
| Tool-selection method | Direct-changing type, fixed-address specification |
| Compatible compressed air | 102 to 145 psi, 1.8CFM (0.7 to 1.0 MPa, 50 L/min or higher) |
| Spindle speed | 400 to 12,000 rpm; 400 to 3,000 rpm for positioning and centering |
| Weight | 15lb (6.8kg) (total weight including spindle, magazine, control box, etc.) |
| Included items | Control box, magazine unit, ATC spindle, air cylinder, base plate, Z-origin sensor, spacer, cap screws, hexagonal wrenches, retaining bands, cable retainers, and user's manual |
* When the T-slot table is installed, length is 297 mm (11.7 in.).
  When the ZCL-540 is installed, the X-axis travels of the MDX-540 are as follows.
     • Standard table, no ATC unit: 285 mm (11.2 in.)/325 mm (12.7 in.) (with expanded X-axis travel)
     • Standard table, ATC unit present: 270 mm (10.6 in.)/325 mm (12.7 in.) (with expanded X-axis travel)
     • T-slot table, no ATC unit: 218 mm (8.5 in.)/258 mm (10.1 in.) (with expanded X-axis travel)
     • T-slot table, ATC unit present: 203 mm (7.9 in.)/258 mm (10.1 in.) (with expanded X-axis travel)